Date
Oct 20 2021
Expired!
BBCW: Fall Buffalo Gals Luncheon – Women's Adventures in Old Yellowstone
Buffalo Gals Luncheon: Women's Adventures in Old Yellowstone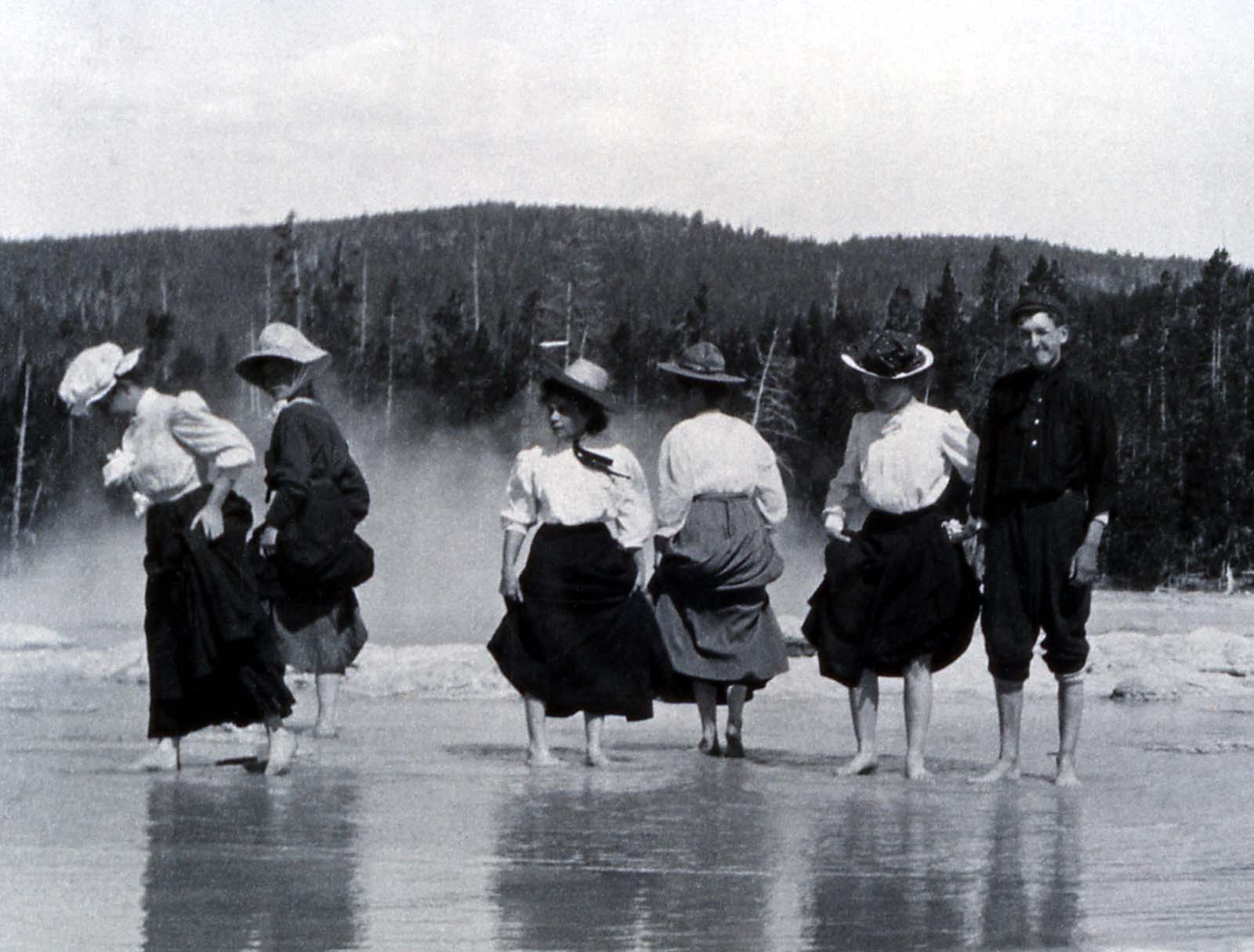 Wednesday, October 20, 2021
11:45 a.m. – 1 p.m.
Kuyper Dining Pavilion
Join us at our Fall Buffalo Gals Luncheon for a delicious lunch and a talk by M. Mark Miller, who presents Women's Adventures in Old Yellowstone.
Reservations are required for this luncheon and talk.
Cost is just $25 for Buffalo Bill Center of the West members and $35 for non-members. Space is limited, so reserve your seat today by e-mailing our Membership Office or calling 307-578-4008.
About the program
Women began visiting Yellowstone Park before the ink was dry on the document President Ulysses S. Grant signed creating it. M. Mark Miller has been collecting women's Yellowstone stories for 20 years and bases his women's adventures presentation on the very best ones he has found. The stories range from the high adventure of a young bride taken captive by Indians to the raucous humor of a woman who sneaked out at night and "soaped" a geyser to force it to play. Miller reads the actual words of such women, which brings their adventures to life.
The first white women to see the park were accompanied by Army escorts to protect them from hostile Indians. They walked close to geysers with no board walks or guardrails to protect them from scalding water. They were frightened by the human-like screams of mountain lions and worried about encountering ferocious bears.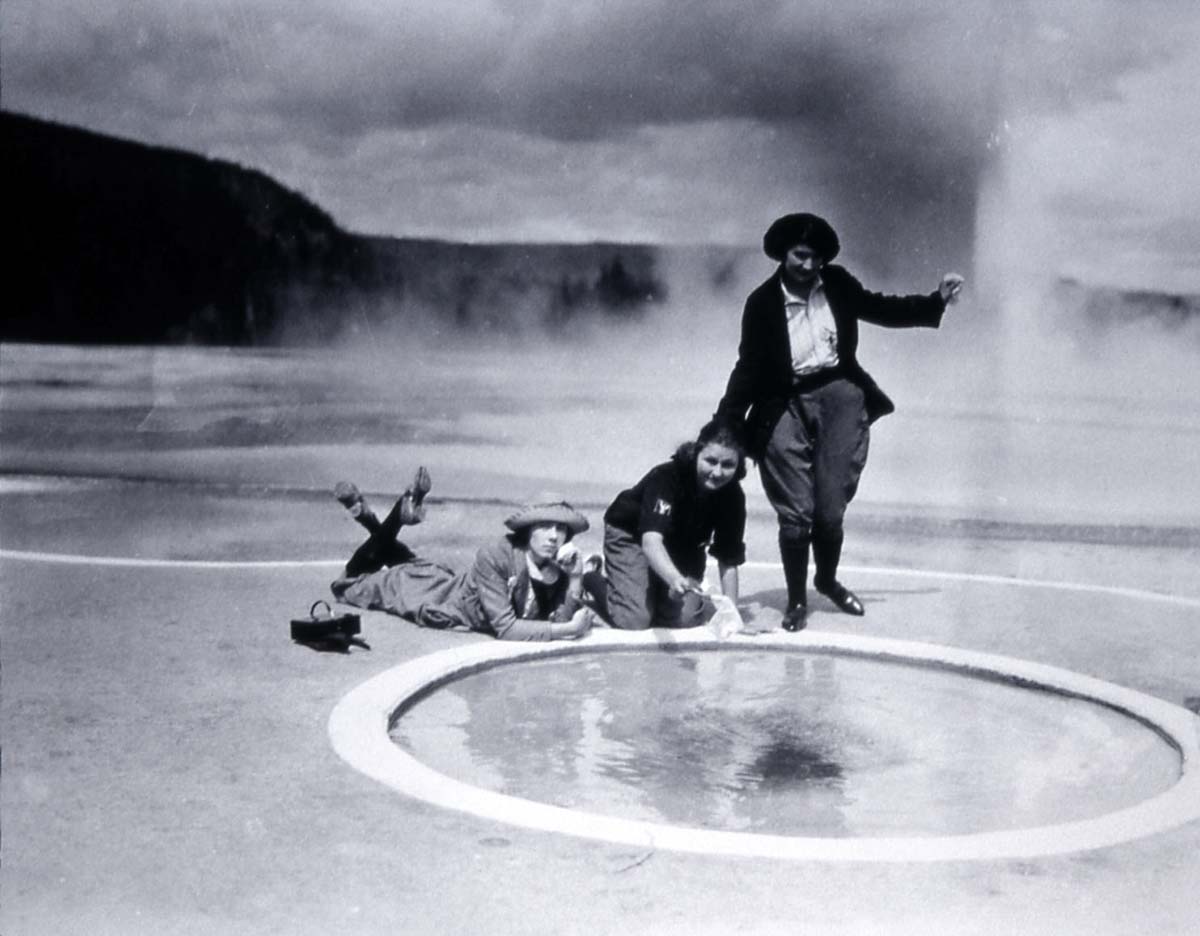 In the 1870s, the park had only a few hundred visitors a year. Most were pioneers from adjoining territories, but there were also a few wealthy adventurers who could afford to travel from the east and even Europe. The completion of the Northern Pacific Railroad's transcontinental route in 1882 opened the park to a flood of middle-class tourists from across the U.S. At first accommodations were crude, but by the 1890s roads and hotels in the park were among the best in the country.
Miller's presentation covers a wide range of women's experiences, and promises new stories that will bring gasps and laughter. There's the 6-year-old girl who was saved by a gentle horse named "Dolly" when her custom-made saddle turned upside down in 1874. The woman in 1880 who described herself as "a stout lady in her 50s" got in trouble when she had to ride a "sober old creature named 'Foxey.'" In 1892 the daughter of a Wyoming governor worried about being an unmarried girl without a chaperone when she stayed in Yellowstone's luxury hotels and traveled in a comfortable carriage pulled by a matched team of horses.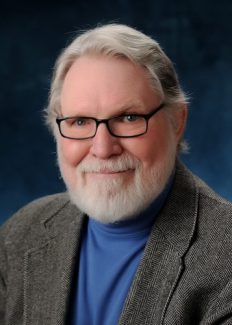 About the speaker
Miller is a fifth-generation Montanan who grew up on a cattle ranch about 90 miles from Yellowstone Park. He has been researching early travel to the park since 2003 when he returned to Montana after a career as a newspaper reporter and journalism professor. His interest in Yellowstone history began when he was a small boy listening to his grandmother's tales of her trip to the park in 1909 and her father and grandfather's trip there in 1882. He has collected hundreds of first-person accounts of park travel and has published three collections of the very best of them. He has also written two narrative histories that braid together multiple accounts of important Yellowstone Park events and a mid-grades novel.
Miller brings the people in his books to life with tales of high adventure and jolly fun. His book, Encounters in Yellowstone was a finalist for the High Plains Book Award for literary non-fiction. His most recent book, Sidesaddles and Geysers, is an anthology of women's stories about their Yellowstone adventures. Miller's articles on Yellowstone Park and Montana history have appeared in Montana Quarterly, Big Sky Journal and Gallatin History Quarterly. He was a member of the Humanities Montana Speakers Bureau and lectured on Yellowstone history all across the state.
He lives in Bozeman where he volunteers at the Gallatin History Museum.
---
Cody Calendar advertisers make this calendar possible.

---